2011 Kanonkop Estate Cabernet Sauvignon
Estate: Kanonkop Wine Estate Region: Simonsberg-Stellenbosch, Stellenbosch, Coastal Region, South Africa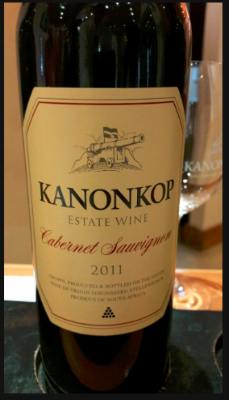 Tasting Note:
November 14, 2016
Medium to deep ruby red. Very interesting nose, a lot more savory with some dirty and musky notes. A little gamey/iron too with smoked herbs. Very light spices with a bit of dark berries on the back end. Moderate tannins (6.5/10) with dark characteristics throughout the palate. Some dark red berries, some greenery and a little savory. Medium plus bodied with strong and tangy acidity. Long dry finish. This definitely needs more time to fully develop.
---
Drink Dates:
2017 till 2027.
Price Point:
$$ - Sample provided by Cape Classics. Retail value is $41.99.
Tasting Note:
December 19,2015
Garnet red. Very interesting with hints of tea leaves, slight cassis and a lot of smoke. Heavy tannins (7.5/10) and a full body. Lots of red cherries and slightly tangy. Sandpaper mouthfeel. Dry finish. Long and lingering finish. Tannins are heavy throughout. Built in the French style, nice and dry. Not fruit forward or silky at all. Can easily age for 20 years. This wine is fermented in open top fermentors. Kanonkop continues to surprise with these powerful wines. A must stop location in Stellenbosch.
---
100% Cabernet Sauvignon from the Estate Vineyard, aged in 50% new 225 liter French oak Nevers for 24 months.
Drink Dates:
2015 till 2035.
Price Point:
$$ - R300.00 or $20.00 as of 12/19/2015. You can find in the United States for around $31.00.